If you've been following along, you might know that I love to
latest creations.)
Well, since the switch to yellow accents in my house,
I have felt the need to change the rest of my painted
furniture so it doesn't look so rainbow-ey.
So where did I look for my inspiration? That gorgeous
Anthropologie catalog. Not quite in my budget to buy their
furniture at $900 + a piece, but this DIY girl didn't mind
getting her hands dirty to make a version of her own.
Here are a few of their
furniture pieces that inspired me for my project: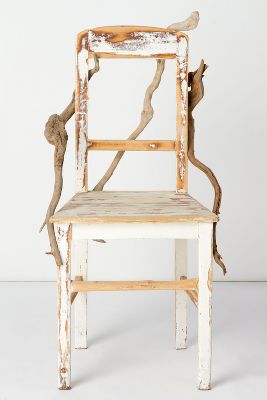 "Twisted Roots Alter Ego Chair", Anthropologie
"Kasbah End Table", Anthropologie


I loved the distressing techniques the designers used and different
layers of paint peeking through. I had already done a patchwork paint technique before,
so I felt confident to take a vintage thrift store find of mine to transform.
Cute, right? Now you might be thinking, why would I mess with a good thing?
Don't hate me for what I decided to do with it...
I decided to strip it. Little did I know how messy it would be
to work with. (my husband did warn me...but I can be stubborn.)
For some reason, all of the paint wouldn't come off completely,
even after two applications of spray stripper.
And then the directions said to use steel wool to rub off the
sludge but because there were so many layers of paint a
lot of the goo still stayed on.
I was about ready to kick this table to the curb. But after
a few days to think and take a break, I decided to
try and sand off some of the flaky paint.
By this time the paint had time to dry and it was much
easier to remove with my electric sander. Yes!
All I wanted at this point was for a somewhat smooth
surface to work with. I also used my Dremel wire brush
attachment to try to remove extra chunks of paint.
(This was becoming my labor of love!)
So after the paint was mostly smooth, I covered small sections
in aqua, tangerine and yellow eggshell latex paint in the
patchwork technique I had used before.
(Sorry I don't have pictures of this part-I still wasn't sure if
the table would survive my "surgery".)
But, after letting my patchwork sections dry, I decided to
paint the entire table in pale gray paint. Yes, even the little
songbirds got covered.
And after waiting a day for that to dry, turned on my
electric sander to see if it would be a disaster or a masterpiece....
But, I was so pleasantly surprised by my results!
(A lot like those Anthro pieces I loved!)
And, my Mod Podged song pages and birds were intact! After a spraying
of Deco Art acrylic sealer, my table was done!
(I think I love it even more than I did before!)
I hope you enjoyed this post and I look forward to showing you
a few more Anthropologie inspired projects I have up my sleeve!
P.S. It's not too late to enter my huge giveaway of a gorgeous handcrafted European enamel